The 1937 Chevy Master
Author: Jason / Date: April 13, 2023 / Tags: Chevrolet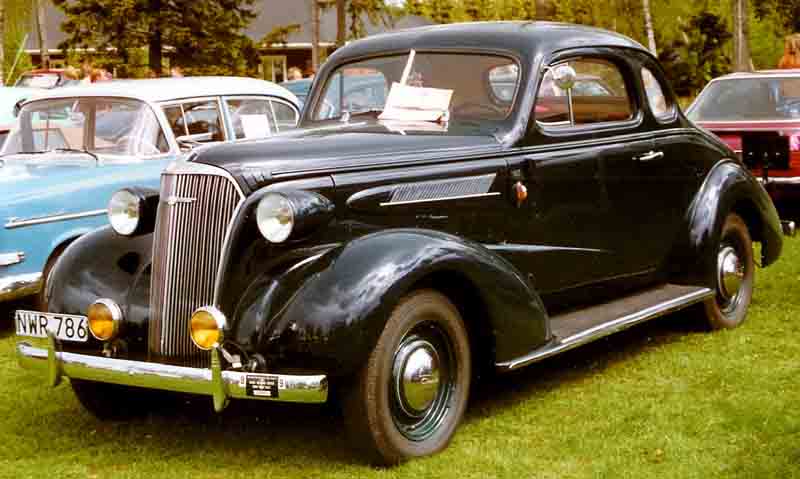 (RareCarMarket.com) – The 1937 Chevrolet Master was a classic American automobile that represented the epitome of style, performance, and innovation during its era. As a product of the Chevrolet Motor Division of General Motors, the Master series was the more upscale offering of the brand, designed to compete with the increasingly popular Ford models. This fourth-generation Chevrolet automobile boasted a range of improvements and new features that made it a highly sought-after vehicle in the pre-war years.
The Master's exterior design, often described as streamlined and elegant, was attributed to the renowned General Motors designer Harley Earl. The car's sleek silhouette was characterized by its rounded fenders, curved radiator grille, and iconic 'waterfall' styled front end, which featured vertical chrome bars. The Master's body was mounted on a sturdy box-girder frame, with the wheelbase extending to 112.25 inches, providing ample space for passengers and cargo. The automobile was available in several body styles, including coupes, sedans, and convertibles, catering to the diverse preferences of consumers at the time.
Under the hood, the 1937 Chevrolet Master was powered by a reliable and efficient 216.5 cubic inch, six-cylinder engine, known as the "Stovebolt Six." This overhead-valve engine generated an impressive 85 horsepower, which was a significant leap forward compared to its predecessors. The engine was paired with a three-speed manual transmission that featured synchromesh technology, enabling smoother gear changes and an overall enhanced driving experience. Another notable innovation was the use of an independent front suspension system called "Knee-Action," which improved handling and provided a more comfortable ride.
The interior of the 1937 Chevrolet Master was designed with comfort and convenience in mind. Passengers were treated to spacious, plush seating that could accommodate up to five adults comfortably. In addition, the car came with various amenities, such as an electric clock, a cigar lighter, and an ashtray – all standard features that were considered luxurious at the time. The Master also boasted a safety glass windshield and hydraulic brakes, which added to the overall appeal of this iconic automobile. With its stylish design, advanced engineering, and comfortable interior, the 1937 Chevrolet Master remains an enduring symbol of American automotive history.
Copyright 2023, RareCarMarket.com